Basics of Discover Rosedale


Discover Rosedale is a chance to make the college selection process enjoyable. Discover is a weekend for high school students to spend some time on campus, get to know our community, and evaluate Rosedale Bible College as an option for higher education. The weekend starts on Thursday evening and ends on Saturday morning.
In between, students sit in on classes, worship with us in our chapel, get information about Rosedale's unique identity and approach, meet faculty and administration, and participate in special events on Friday evening.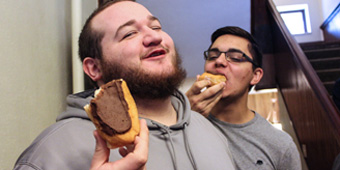 Students are also able to schedule individual meetings with academic and financial aid personnel if they have further questions. Students who apply for admission during Discover Rosedale or the two weeks after the event are not required to pay an application fee.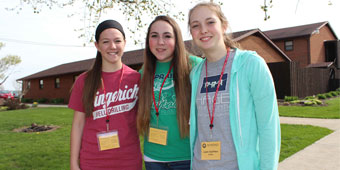 Participation for each Discover Rosedale is free, but may be limited, so early registration is recommended. Preregistered groups of three or more students accompanied by a chaperone qualify for partial reimbursement of fuel expenses up to $100.
You can register online now. If the Discover Rosedale date does not suit you, we invite you to register for an individual campus visit.
Weekend Schedule
Thursday

8:00–9:30 p.m. Registration in the student center
10:00 p.m.
Introductions, weekend orientation in student center fireplace area

Friday

8:30
Breakfast
9:35
Chapel
10:30
RBC info session
11:45
Lunch
1:00

Class options/personal meetings

2:25

Class option/personal meetings

 

5:00
Supper
7:00
Evening activity
8:45-9:15
Snack
9:15-12:00 a.m.
Movies, games and sports
1:00 a.m.
Dorm time

Saturday

8:00–10:30
Cereal and milk are available for those leaving early
11:00
Brunch and departures
Discover Rosedale Frequently Asked Questions
What expectations does RBC have for those who register for Discover Rosedale?
We want to give you flexibility to tailor your visit to your interests and needs in a college experience, so at times, you'll have options about what you do or don't participate in. On the other hand, we want to keep you safe, and make sure that you get all of the information you need to think about what Rosedale offers. Here's a list of Discover Rosedale events and activities that all prospective students are required to attend.
Thursday, March 2
10 p.m. Welcome 
Friday, March 3
8:30 a.m. Meet the College
9:35 a.m. Chapel
Immediately following chapel: RBC info sessions
At least one class (find your options here)
If you need to make an alternative arrangement for one of these activities or events, email admissions@rosedale.edu, or talk to Hans Shenk as soon as possible on the weekend of Discover Rosedale.
We also strive to ensure that our campus is a safe environment for everyone. We reserve the right to ask any student or chaperone judged by the Office of Student Life or the director of Enrollment Services in consultation with the Office of Student Life to be acting in a violent, aggressive, vulgar, destructive, bullying, suggestive or otherwise excessively disruptive or offensive manner to leave campus.
Should such a situation occur, the office of Student Life will review the situation to see if any additional steps need to be taken.
Where will I sleep?
Prospective students stay in Rosedale's residence halls with current students, unless other arrangements are requested. If you're for any reason uncomfortable with this arrangement, please e-mail enrollment services, or mention it on your registration form.
Can I request a roommate?
Absolutely! You can submit a roommate request by e-mail or along with your Discover Rosedale registration. Requests are honored at the discretion of the Enrollment Services Department.
What should I bring?
Please bring a sleeping bag or sheets for a single bed, pillow, and personal bathroom items.
What should I wear?
Please feel free to dress comfortably for your time with us, and remember that March weather in central Ohio can be hot, cold, windy, warm, rainy, or sunny. You'll have the option of participating in athletic activities while you're on campus, and if you'd like to participate, remember to bring along clothes and shoes that are suitable for a gym.
What are the arrival/departure times?
Arrival is from 8:00 to 9:30 pm on Thursday. Please register in the coffee shop when you arrive. The weekend concludes with brunch at 11:00 on Saturday morning. If you are planning to arrive before 8:00 or after 9:30 on Thursday, or departing after 11:00 am on Saturday, please make arrangements with the Enrollment Services Coordinator. There will be a fee of $15 for those who wish to stay through Sunday.
Your Question Not Here?
Ask us your question!