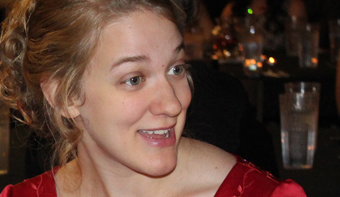 Mary Beth Sharp: My internship with IFI has been a wonderful opportunity for growth. Learning how to befriend and connect with international students has not been easy and predictable. It's taught me how to depend on God rather than my own abilities and resources. You never know what direction a conversation will take!
My conversation partner is a Chinese student. I hadn't realized what a blank religious slate most Chinese students are. One day she turned to me and said, "Christians are so nice. I think I want to be one." But she didn't have a clue what a Christian is! It was a good experience for me to explain how we become Christians, and why we respond the way we do. She's now involved in an IFI Bible study.
Taylor Herr: When I hear about injustice or suffering in the world, I naturally want to stop it. I have always wanted to rescue and protect people who need help. The problem is, I often have no idea what to do, or how to make a difference. Until recently, that was how I felt about human trafficking victims. Where do you start? How can you make an impact in the dark and tangled web that is modern day slavery? That's where Bridge came in. My internship with the Salvation Army's anti-human trafficking program has given me the training and experience to actually stand up and do something instead of going about my life wishing I knew how to help.
I've met survivors, helped people get off the street, and participated in their recovery. The knowledge and experience I have gained in this program is priceless and I plan to use it for the rest of my life.
Dylan Miller: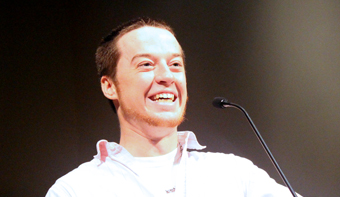 The highlights of my internship have been getting to see the pastor's role behind the scenes as well as building relationships with non-believers, and seeing God work through those relationships. I'm seeing how much time it takes to set up a sermon schedule, prepare sermons, go to meetings, and be part of ministries both inside and outside the church. It's a huge time commitment!
I've learned practical things like how to introduce myself to people I don't know. Being an introvert, it's easy for me not to talk to strangers. But after observing my mentor comfortably engaging with strangers at a pancake breakfast I'm trying his pattern of self introduction first—putting others at ease by saying something like, "Hi, I'm Dylan. What's your name?" It seems like a little thing, but it's really helped me reach out to people I don't know.
One Sunday morning, I had a very special experience. There were two first-grade boys sitting with me in church. One of them was in church for the first time in his life. As the pastor was preaching, one little guy turned to me and pointed at the cross. "What's that?" he asked. "It's a cross," I said. "What's a cross?" he asked. So I told him about how Jesus died for our sins. He listened, then asked, "Why?" I tried to explain Christ's death in a way he could understand. He pondered this a moment then said, "I want my mom to come next Sunday." It was so encouraging to see that these experiences were making him hungry for more!
Search Bridge
Can't find what you are looking for? Type your question here.
Contact Us
Rosedale Bible College
2270 Rosedale Road, Irwin, Ohio 43029
740-857-1311 | 877-857-1312 fax