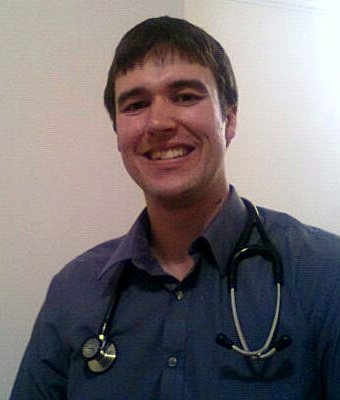 Originally from Clearwater, Florida, Seth Holman lives in Sanford, North Carolina and works as a physician assistant. Seth attended RBC in 2008 and notes: "When I consider the entire student body during my time at Rosedale, I don't think I have since come across a larger group of 'solid' young adults who are serious about following Jesus."
What is your current position?
I work as a physician assistant in a family medicine practice in North Carolina. I see patients of all ages and routinely manage a lot of common health problems (diabetes, high blood pressure, etc.) as well as some not-so-common problems and acute injuries. I work with a Christian physician who has a heart to serve the people of this city, and we have an open platform to share our faith and pray with patients as often as the opportunity arises.
Why did you come to RBC?
I attended RBC for a semester just before finishing my bachelor's degree from the University of South Florida. I had cousins who were planning to attend at the same time, so I took a bit of a break from my biochemistry studies to get the 'Rosedale Experience.' I am extremely thankful for that decision.
Rosedale was my first real experience living away from home, and I think it was probably the best way to 'get out on my own' (surrounded by believers and godly mentors who helped me adapt to young adult life). I loved the Bible classes at RBC, and though I wasn't planning to use the credits from those toward my medical degree, I think that they helped to lay a foundation of truth that kept me on-track during my graduate training, both spiritually and academically.
What came after Rosedale?
Following my time at Rosedale I spent one final semester at the University of South Florida finishing my bachelor of science degree, and then moved on to physician assistant school near Miami, Florida.
What was your favorite class at RBC? What made it special?
Tough to pick one favorite, but I can narrow it down to two choices: Anabaptist History and Theology, and Foundations of Worship. A.H.A.T. was special because I wasn't very familiar with my Mennonite side (my mother is Mennonite), and a lot of the information was entirely new to me. I also really enjoyed the variety of presentation styles used—some days it was videos, some days skits, etc.
What did you find at RBC that helped you grow spiritually?
The men's small group that I was a part of was an important facilitator of spiritual growth during my time at RBC. When I consider the entire student body during my time at Rosedale, I don't think I have since come across a larger group of 'solid' young adults who are serious about following Jesus. That was challenging to me, and encouraged me to stay in close fellowship with believers who are willing to live differently from the world around. The same lesson applies today!
Give a favorite memory of your time at RBC.
All-night volleyball . . . made it all the way to the finals, and paid the price for it the next day. A close runner-up would be the chapel services in the gym. Actually, one final memory just came to mind: the all-nighters which were occasionally pulled (usually in a group setting with several other guys) to finish term papers on time for those of us with a knack for procrastination.
What extra-curricular activities were you involved in while at RBC?
I helped to lead musical worship fairly regularly during my time at RBC, and found a great group of fellow musicians who were a blast to jam with. I also played more volleyball and indoor soccer during those months than I have done since, and thoroughly enjoyed every bit of it. Outside of that, my free time was spent with the great many friends who quickly began feeling like family.