Labreeska Sensenig Graber
Labreeska Sensenig Graber is from Lewisburg, Pennsylvania and attended RBC in 2007-08. She describes RBC as "a place where life and conversations and studies were so saturated with God and the Word that, even if you were only a little willing, you grew."
What are you doing now?
I am currently working as a registered nurse on two medical/surgical telemetry floors at Geisinger Medical Center in central Pennsylvania.
Describe your educational path.
When I graduated from high school, I wasn't sure what I wanted to do with the rest of my life. I was seriously considering nursing, and had started working as an aid at an assisted living facility, but didn't want to start nursing school right away until I decided it was what I wanted to do. I also wanted to spread my wings a bit first.
How did RBC fit into that path? What was it like to come here after being homeschooled?
I attended Rosedale the spring after I graduated high school, and it was one of the best decisions I ever made. I had been homeschooled all through grade school, and was apprehensive about how I would do in a "real" school setting. I also knew no one, and wasn't expecting to make close friends. I was so wrong.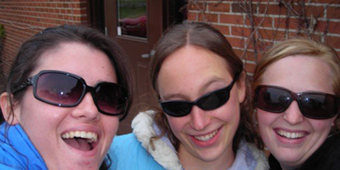 Rosedale challenged me academically, but also gave me the confidence that I needed in switching from a homeschool setting to a college setting. And the students are a huge part of making Rosedale the wonderful place it is. I made life-long best friends during my time there.
How long did you stay at RBC?
While at RBC, I received acceptance to Thomas Jefferson University into their nursing program. However, I loved my semester at RBC so much that I decided I wanted to finish another full year there, so I deferred my admission to TJU for a year so I could return to Rosedale, and I graduated with a Certificate in Biblical Studies from RBC.
How did transferring to another college go?
I had taken several classes at RBC that transferred over as general education credits that immensely helped my heavy workload as a nursing student. I also had absolutely no problems transferring the credits; TJU accepted them without question.
I was so thankful that I had been able to take classes like Sociology, Counseling, and Psychology at RBC where they were taught from a biblical standpoint. It greatly increased my confidence in expressing my views in a knowledgeable way, yet from a Christ-centered perspective.
I also found that Rosedale's academic requirements very much prepared me for nursing school, which was extremely demanding and fast-paced. When compared to classes I took at TJU, RBC has an excellent academic program and expectations, which made my transition smooth.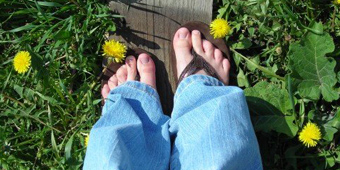 What was your favorite class at RBC? What made it special?
Probably one of my favorite classes was Contemporary Christianity. Youth can be ignorant of (and I was guilty of this) how to live an unashamed Christian life untainted by legalism, yet countering the views being adopted by many in the Christian community in order to stay more relevant to the rest of the world. Contemporary Christianity might have been one of the first times I seriously thought about "How do I live my life in a Christ-like, loving manner, and yet hold firm to the principles taught in the Word of God?"
What did you find at RBC that helped you grow spiritually?
The atmosphere and the interaction I had with my fellow students, the leadership, and the faculty at RBC. It's sort of like a greenhouse, where I went as a relatively young Christian and came away solidified in so many areas of my faith, mostly because of the conversations and relationships I made there.
The campus is small, and so it felt like a big family, where we shared our lives with each other; we prayed together, debated together, studied together, learned together, and all-around supported each other.
It was a place where life and conversations and studies were so saturated with God and the Word that, even if you were only a little willing, you grew. I saw how the body of Christ is central to our faith, and I saw how God moves when people come together and seek Him and His will.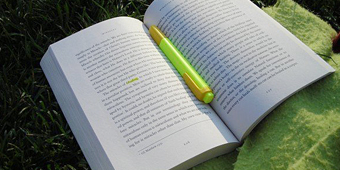 I saw how fellowship with a Christian community makes a huge impact on my personal growth and development when we seek it together. I realized there how incredibly important accountability with fellow believers is in my Christian walk. And I saw God speak so many times through others as they taught me from the truths of God's Word.
Give a favorite memory of your time at RBC.
Probably one of my favorite memories at RBC was when we had a music celebration night one evening in the chapel. The students had worked very hard and practiced for hours to put together this program, but what came out of it was beyond any of us. The music was amazing and beautiful. We celebrated the gift of music, giving our praises back to God, and the service went on for hours. Even after it was over, students stayed, praying together, and lifting up each other and the student body. It was an invigorating and powerful night, experiencing the joy and beauty of the Lord.
What extra-curricular activities were you involved in while at RBC?
At Rosedale I was involved in both the Drama Team as well as The Rosedale Chorale, both of which I enjoyed tremendously. We presented two short plays, and after practicing for a semester, toured the Midwestern states giving programs. It was a great time of learning how to improve my acting, and experiencing traveling the road with a small group of friends.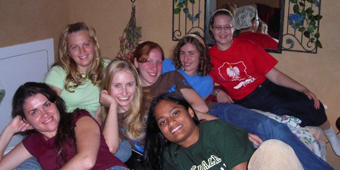 Chorale was an incredible music learning experience, and our tour was probably one of my favorite times at RBC. We had a group of about 30 students, and toured the Northeastern states and parts of Canada in our bus. It was beautiful seeing and letting God use us to minister to and touch other people in churches and places we didn't know. On those two tours, I cherish my memories with my friends in our hosts' homes. We made so many connections across the country, and I'll be forever grateful to all who opened their doors to us!