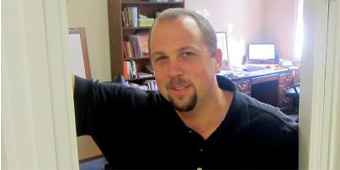 Our vision and prayer here at Rosedale is that you will meet Jesus in new and profound ways. As the Dean of Students I continue to be amazed at God's ongoing work of molding and shaping that He is doing in all of our lives. Through God's grace, RBC is a place where you can grow in both your faith and your passion for His Kingdom.
Life together on campus is both exciting and challenging. The classes will stretch you and prepare you to serve Christ in the world. Learning to live in community will strengthen you and at times challenge you. That is why "grace" is the operative word around the student life team. As we strive to live lives of holiness in our walks as followers of Jesus, we want grace to season everything we do.
We are excited that you are considering our community as a place to lay a strong academic and spiritual foundation. I am convinced that while you study, serve, worship, pray and develop lifelong friends at RBC you will meet Christ and be transformed.
Rosedale has a Dean of Students and a Student Life Team in order to foster an environment of spiritual growth. That is our mandate. If you have any questions, please feel free to call me at (740)857-1311 or email me. We'd love for you join us in the journey!
Search Campus Life
Can't find what you are looking for? Type your question here.
Contact Us
Rosedale Bible College
2270 Rosedale Road, Irwin, Ohio 43029
740-857-1311 | 877-857-1312 fax