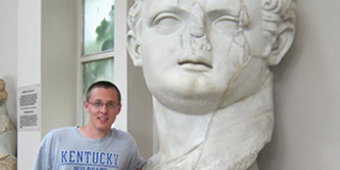 Anthony attended RBC during the 2007-08 academic year, just after graduating from high school. Although he had a four-year scholarship from the University of Kentucky, he chose to defer it in order to spend a year at Rosedale. Now he's in his first year of graduate school at the University of Notre Dame.
What are you doing now?
I am currently a first-year MTS student (Master of Theological Studies) at the University of Notre Dame, devoting my attention and energy full time to the study of Scripture, ancient languages (including Greek and Hebrew), and other related theological fields.
I'm living with three other MTS students about a mile from campus. We buy groceries and eat in common in order to save time and money. It is a wonderful experience of communion and learning.
Tell us about your educational path after Rosedale. How did RBC fit into that path?
After attending RBC, I went to the University of Kentucky for four years, earning my B.A. in Classics, with a focus on Greek and Latin. I was very involved in my hometown church, Oasis Community Church, as well.
RBC provided a conservative Anabaptist perspective much appreciated during my time at UK. At RBC, I received an academic grounding in Scripture and spirituality before moving on into the secular, and sometimes antagonistic, environment. It also gave me time to get away and think about my future plans and goals.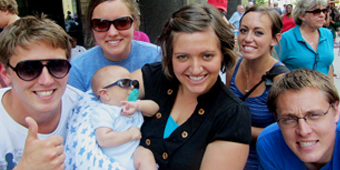 What was it like to transfer to another school after Rosedale?
The year before RBC, I received a scholarship to go to the University of Kentucky, but they deferred the scholarship for a year so that I could first attend Rosedale. I entered UK as a freshman, knowing that this particular institution did not accept Rosedale credits. I was aware of this before attending Rosedale, but I felt that the Rosedale experience, the academic, social, and spiritual life, was worth the "year-off." It was a smooth and easy transition.
What was your favorite class at RBC? What made it special?
Survey of Bible Doctrine 1. I have always had an interest in synthesizing and harmonizing various parts of Scripture, while maintaining its authority as the inspired word of God. This course was a great exercise in examining various parts of Scripture and their relationship to the whole. Emphasis was placed on orthodox doctrine, or "right belief." What does the Scripture say? What does it mean? How should I view the Trinity, the world, sin, and so on? Not only did the subject matter interest me, but the professor was excellent, teaching clearly and passionately.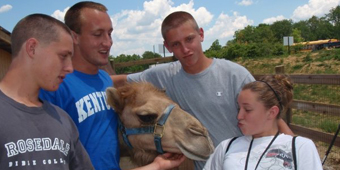 What did you find at RBC that helped you grow spiritually?
More than any other planned activity, the worship services provided me with time to reflect on my relationship with God, confess my sins, and give glory to Christ for the forgiveness of sins. Almost everyone, if not everyone, who attends RBC believes in Christ, even if this belief may look different in different people. The presence of so many serious followers of Christ gave me the opportunity to discuss what it means to follow Christ. The emphasis on the Kingdom of God has stuck with me over the years.
Visit Anthony's Facebook page and you'll see pictures of his travels through Turkey and Greece, plus an interesting shot in which he gets up close and personal with a little crocodile.