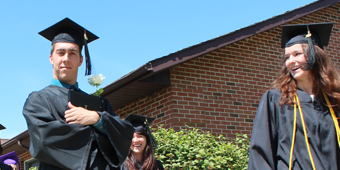 Why choose Rosedale Bible College? As you evaluate your college options, here are some Rosedale advantages you may want to consider:
A sure foundation
Rosedale is a great place to make sure that the foundation of your faith is firmly established in the truth of God's Word while you sort out your career/professional goals or at the start of your already defined academic pursuits.
The decisive impact of the first year of college on student religious commitment is explored in a published survey by Steve Henderson. Read it online.
Reasonable rates for tuition, room and board
You can attend Rosedale for just over $5,000 per semester and $2,500 for the six-week winter term—that's just under $14,000 for a full academic year! Costs at liberal arts colleges are often double that amount.
Engaging courses taught by a dynamic and qualified faculty
A broad variety of classes include Bible, theological, and practical Christian living courses as well as general education offerings.
An accredited education
Rosedale has earned accreditation with the Association for Biblical Higher Education and is authorized to award the Associate's degree. Most Christian colleges and many state universities will accept applicable Rosedale credits for transfer. The academic office conducted a survey of alumni in 2006 and compiled a list of public and private colleges that have accepted RBC credits.
A spiritually nurturing environment
At Rosedale you will be surrounded by other students who have a passion for God and who want to fulfill God's purpose for them. Spiritual formation is not only built into the curriculum, it is a part of the goal for a multitude of extracurricular activities including short-term mission trips, drama productions, and ministry formation opportunities.
A socially stimulating environment
While competing intensely in the gym, talking late into the night with roommates, participating in a student prayer group, singing in Chorale, or hanging out in the coffee shop, you can make many great friends for life.
Search Admissions
Can't find what you are looking for? Type your question here.
Contact Us
Rosedale Bible College
2270 Rosedale Road, Irwin, Ohio 43029
740-857-1311 | 877-857-1312 fax