Which Classes Are Best for Me?
Academic Advising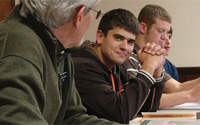 Academic Advisors
The academic dean and the academic assistant/registrar are available to help students plan a schedule of courses. Be sure to review the information on this page, and keep in mind that some classes may be offered only on alternating years.
Graduation Requirement Worksheet
You may find it helpful to use a worksheet to determine which courses are required for the associate degree. Students may also view a degree audit through myRBC. Students are encouraged to complete half the requirements in each section (i.e., Bible/theology, general education, specific concentration) in each year.

Alternating Year Classes
Not every course is scheduled every year. Please see the course schedule to see what is being offered.
Search Academics
Can't find what you are looking for? Type your question here.
Contact Us
Rosedale Bible College
2270 Rosedale Road, Irwin, Ohio 43029
740-857-1311 | 877-857-1312 fax