Programs
Students studying at Rosedale pursue the associate degree in biblical studies as well as two co-curricular programs.
The Associate in Biblical Studies is a two–year degree accredited by the Commission on Accreditation of the Association for Biblical Higher Education. The curriculum provides for a variety of concentrations to accommodate student interests and career or service goals. Concentrations include Bible, Education, General Studies, Missions, Music and Worship, Pastoral Studies, Theology, and Youth Ministries.
What can I do with an associate degree?
The answer depends on who you are and what you hope to do. Starting your college career at Rosedale gives you the opportunity to clarify what you believe and why you believe it. You can ask big questions in the context of a supportive, spiritually focused campus community before you head into a secular environment.
One option is to transfer credits to complete your bachelor's degree. Most Christian universities and colleges and many public universities accept RBC credits, and you can check out the list of public and private colleges that have accepted RBC credits here.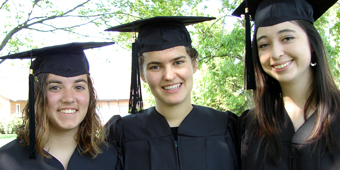 Or you can enter the job market right away. If ministry, mission or church work may be in your future, a two-year degree not only equips you with a solid biblical foundation, it also shows your commitment to being prepared for the task. An associate degree is a confirmation to any employer of your academic diligence and educational foundation, even if you choose to work in a field not directly related to your degree.
Co-Curricular Programs
Bridge is an internship program that pairs study and reflection with ministry experience and vocational exploration.
Akwachink Leadership School is an adjunct program operated in conjunction with Living Hope Native Ministries, based in Red Lake, Ontario. This three-week experience combines an expedition in the Canadian wilderness with intensive training in leadership and spiritual formation.
Credit Transfer
Transferring credit to other schools
Our students have gone on to excel at four-year colleges and universities across the United States and Canada. Because of RBC's accreditation with the Association for Biblical Higher Education (see the directory of member schools), many have transferred most, if not all, of their credits to schools like Eastern Mennonite University, Wheaton College, The Ohio State University, Houghton College, and Huntington University. An articulation agreement is in place with Bluffton University, and lists of course equivalents have been compiled in cooperation with the academic offices of Bethel College (Mishawaka, IN), Columbia International University, and Ohio Christian University.
Most Christian universities and colleges and many public universities accept RBC credits. The academic office has compiled a list of public and private colleges that have accepted RBC credits.
Transferring students should be aware of the distinction between acceptance and applicability of transferred credits. For example, during the enrollment process, some institutions may accept credits for transfer, but those credits may not decrease the number of courses required to complete a program if they are not applicable to program requirements. This is especially significant for technical or other programs with requirements that leave little room for electives.
NOTICE: Transferability of credits is never guaranteed. Students are encouraged to communicate with the school to which they hope to transfer credit.
To learn more about how transfer works, or to discuss options for transfer to a particular university, contact Bethany Peachey, our registrar.
Transferring credit from other schools
Credits may be transferred to RBC from colleges and institutions on a case-by-case basis as approved by the academic dean and as they apply toward completing a program of study at RBC. Students desiring to transfer academic credits from other institutions must request an official transcript from the other school be sent to RBC. Credits must be at or above a grade level of "C" to be eligible for transfer. Grades for courses taken at other colleges and transferred to RBC are not included in the RBC cumulative GPA.
Credits from accredited colleges and institutions are automatically eligible for transfer (if they apply toward a program of study at RBC). To determine course equivalencies, the academic dean may consult course descriptions and syllabi.
Credits from non-accredited colleges and institutions may be transferred on a provisional basis. Course syllabi, faculty credentials, and grading standards may be reviewed to determine course equivalencies. Transfer is finalized once a student has completed 12 semester hours at RBC with a GPA of at least 2.0.
Limited credits may be accepted for validated participation in approved discipleship/missions programs of at least six months' duration operated by approved agencies. To learn more, see the guiding policy.
To graduate from RBC with the associate degree, the student must complete at least eighteen credit hours at RBC.
Textbooks
Since students are required to buy their own textbooks, a great place to buy them is Amazon.com. You may ship your books to your name at RBC's address, and they'll be waiting for you when you arrive on campus after break.
While you will need to order nearly all of the textbooks yourself, RBC does have several copies of the Philosophy and Worship textbooks in the gift shop. See below for the prices.
Introduction to Literature
Backpack Literature: An Introduction to Fiction, Poetry, Drama, and Writing, 4th ed. by XJ Kennedy & Dana Gioia
ISBN-13: 9780205151660
Used should cost between $15-$25.
Dom Casmurro: A Novel, (FSG Classics), Reprint Edition by Machado de Assis
ISBN-13: 9780374523039
Used should cost between $7-$11.
Introduction to Philosophy
Philosophy: The Basics, 5th ed. by Nigel Warburton
ISBN-13: 9780415693165
Philosophy: Basic Readings, 2nd ed. by Nigel Warburton
ISBN-13: 9780415337984
Romans
No textbook beyond the Bible
Worship in the Christian Tradition
Worship in Spirit and Truth by John Frame
ISBN-13: 978-0875522425
A Brief History of Christian Worship by James White
ISBN-13: 978-0687034147
Introduction to World Religions
Neighboring Faiths, 2nd ed. by Winfried Corduan
ISBN-13: 9780830839704
Make sure you get the second edition.
Business Mathematics
Practical Business Math Procedures, 10th ed. by Slater
ISBN-13: 9780073377537
Business Math Handbook to Accompany Practical Business Math Procedures, 10th ed. by Slater
ISBN-13: 9780077327996
The Exceptional Student
Executive Skills in Children and Adolescents, 2nd ed. by Peg Dawson & Richard Guare
ISBN-13: 9781606235713
Kids in the Syndrome Mix by Martin Kutscher & Robert Wolff
ISBN-13: 9781843108115
Spiritual Formation
Sacred Pathways by Gary Thomas
ISBN-13: 9780310329886
Celebration of Discipline by Richard Foster
ISBN-13: 9780060628390
Old Testament Poetry
Dictionary of the Old Testament, Wisdom, Poetry, and Writings by Tremper Longman, Peter Enns
ISBN-13: 9780830817832
Bible that you are willing to thoroughly mark and color
Set of at least 12 colored pencils. More would be better.
Peace, Justice & Simplicity
Choosing Against War: A Christian View by John Roth
ISBN-13: 9781561483594
Why I am a Conscientious Objector by John Drescher
ISBN-13: 9781930353091
Fight: A Christian Case for Nonviolence by Preston Sprinkle
ISBN-13: 9781434704924
Rich Christians in an Age of Hunger, 2015 ed. by Ron Sider
ISBN-13: 9780718037048
Please get this one – this is an updated edition from what was used in previous years.
New Testament Survey
The New Testament in Antiquity by Burge, Cohick, Green
ISBN-13: 9780310244950
Survey of Bible Doctrine I – Independent Study
Introducing Christian Doctrine by Millard Erickson, L Arnold Hustad
ISBN-13: 9780801049194
First come-first served on the bargains below in the gift shop! Email Bethany at bpeachey@rosedale.edu to reserve it or stop by her office to buy them. (Prices do not include tax.)
Philosophy: Basic Readings-New-$25
Worship in Spirit and Truth-New-$8.50
A Brief History of Christian Worship-New-$15
Registrar
Forms and Schedules
Registration Deadlines
Students must register for courses by the first day of the term. Changes in course registration may be made until 4:00 p.m. the first Friday of the semester or 4:00 p.m. the first Wednesday of the winter term.
Planning Your Courses
If you have questions about graduation requirements or need academic advisement, visit the registrar in her office, call (740) 857-1311 ext. 101, or send an email.
Advising
Academic Advisors
The academic dean and the academic assistant/registrar are available to help students plan a schedule of courses. Be sure to review the information on this page, and keep in mind that some classes may be offered only on alternating years.
Graduation Requirement Worksheet
You may find it helpful to use a worksheet to determine which courses are required for the associate degree. Students may also view a degree audit through myRBC. Students are encouraged to complete half the requirements in each section (i.e., Bible/theology, general education, specific concentration) in each year.
Alternating Year Classes
Not every course is scheduled every year. Please see the course schedule to see what is being offered.
Academic Calendar
Fall Semester 2017-2018
September 15–December 15, 2017


Orientation
September 15-17
Classes begin
September 18
Fall Break
October 18–22
Thanksgiving Break
November 22–26
Classes End
December 13
Exams
December 14–15
Winter Term
January 8–February 16, 2018

Orientation
January 8
Classes begin
January 8
Martin Luther King Day
January 15
*Spiritual Enrichment meetings
January 17–19
Classes end
February 15
Exams (extended periods)
February 16
Spring Semester
February 27–May 25, 2018

Orientation
February 27
Classes begin
February 27
*Missions Conference
March 14–16
Easter Break
March 29–April 1
Spring Break
April 21–29
Classes End
May 23
Exams
May 24–25
Graduating Class Banquet
May 25
Commencement exercises
May 26

*Students are expected to attend all special meetings.
Associate Degree in Biblical Studies
The two–year degree program is designed to develop the core components of biblical understanding, a biblical worldview, global vision and commitment to evangelism. The program provides students with a balanced sequence of courses from the three major course divisions: Biblical/Theological, Church/Vocational and General studies. Eight different concentrations also include development of various relevant skills in specific areas of focus.
Core Requirements. To receive a two-year associate's degree, students are required to take the following courses:
Akwachink Leadership School
This program is operated by Living Hope Native Ministries in cooperation with RBC. It is scheduled during the three weeks prior to the fall semester and is based in the Red Lake, Ontario, area. The first two weeks consist of a canoe expedition with teaching and activities built around spiritual and character development themes. During the third week, classes taught by mission personnel continue to build on the spiritual and character development themes of the expedition. This program requires a minimum of eight and accommodates a maximum of twelve students.
(Three credit hours)
August 24 – September 15, 2017
COST: $975.00 plus a $50 application fee for those not previously enrolled at RBC.
For more information, or to ask questions, email admissions.
Credit for Short Term Ministry Programs
The following policies guide the granting of academic credit for approved programs of at least six months duration which combine discipleship or missions training in a classroom setting and supervised outreach experiences. The REACH and YES programs operated by Mennonite missions agencies are prime examples. The academic dean maintains a list of programs approved by the academic committee for inclusion in this policy.
Students who have completed their program may request academic credit for their experience from the registrar's office at RBC. The request for credit must be made within three years after the completion of the program.
Students requesting credit should present written verification from the agency office specifying the dates of participation and the location of the field experience.
Credit for participation is graded on a pass/non-pass basis. The academic dean assigns this grade based on the written recommendation of the program administrator.
Students may request credit from RBC only after earning at least 18 credit hours either prior to or following participation in the training program. Tuition for program credit is twenty percent of the standard tuition rate, payable at the time the credit is granted.
Up to 9 credit hours may be granted for the following courses:

VSF 101 Spiritual Formation (3 hours)
VSF 231 Supervised Formation in Ministry (3 hours)
VMI 111 Introduction to Evangelism (3 hours)