Satisfaction Survey News Release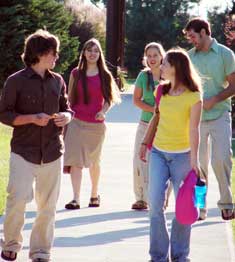 Rosedale Bible College Students Give School High Marks on Satisfaction Survey
ROSEDALE, Ohio -- "All in all, if you had to do it over, would you enroll here again?"
In response to this question on a nationally administered survey, 95% of Rosedale Bible College students indicated they "definitely" or "probably" would.
This compares positively to 57% for students reporting from four-year private colleges, and 77% for students from member schools of the Association for Biblical Higher Education (ABHE), the agency which accredits RBC.
As a part of its ongoing assessment of institutional effectiveness, RBC administered the Noel-Levitz Student Satisfaction Inventory to students in May of 2007. RBC student responses were compared with responses from 322,000 students enrolled in 4-year private colleges and nearly 5,000 students enrolled in ABHE member schools.
"The instrument included 45 specific satisfaction measures," said Phil Weber, RBC's director of institutional research. The report indicates a statistically significant higher ranking from RBC students in 22 measures compared with other ABHE schools and in 29 compared with four-year private colleges.
"The results were extremely positive," said President Dan Ziegler. "Compared to other colleges, RBC was rated exceptionally strong in student life measures."
No students reported an experience less than they expected, and 90% found the RBC experience to be better than they thought it would be, with fully 25% reporting RBC was "much better" than they had anticipated.
"These are great numbers, but they may be indicative of a need for the college to do a better job of raising the expectations of prospective students," said Weber.
When items were grouped into related scales, RBC did very well in the areas that were ranked of greatest importance by the students, including student-centeredness, campus climate, instructional effectiveness, and campus life.
Students felt significantly freer to express their own ideas on campus than did students in the comparison groups. They also reported an overall satisfaction level with their experience at RBC of 6.49 on a 7-point scale, a ranking 12% higher than that reported for ABHE schools and 25% higher than for four-year private colleges.
The Strategic Planning Overview provided by Noel-Levitz identified the following as particular strengths of RBC, as perceived by the students: they are made to feel welcome; the quality of instruction is excellent; and tuition paid is a worthwhile investment.
They also reported very positive feelings about their interactions with school personnel, experienced the campus staff as caring and helpful, believed the residence hall staff were concerned about them as individuals, and found the administration and faculty available to them.
Challenges identified by the report included providing sufficient courses available in each six-week term for a given program of study. Weber said that the new semester schedule being introduced in September is a major step toward alleviating this concern.
The clearest mandate for improvement emerging from the report, and the single category in which RBC was rated significantly lower than the comparison groupings, related to the adequacy and accessibility of computer labs. RBC is responding aggressively in preparation for the coming year, said Weber, upgrading both the quantity and quality of computer lab equipment. Steps are also being taken to increase the college's internet bandwidth.
To see an item report on the survey results, click here.
Search About RBC
Can't find what you are looking for? Type your question here.
Contact Us
Rosedale Bible College
2270 Rosedale Road, Irwin, Ohio 43029
740-857-1311 | 877-857-1312 fax