Student & Alumni Profiles
Andrew Sharp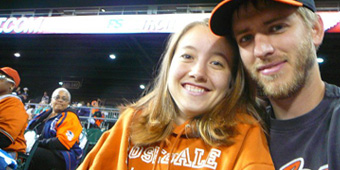 Originally from Delaware, Andrew Sharp lives in London, Ohio, with his wife Stephanie and their little son Michael. Andrew is a coffee-drinking fiend who wants to write a novel someday and is always up for good conversation. He graduated from RBC with an associate degree in 2004.
What is your current position?
I work for Rosedale Mennonite Missions as staff writer and do freelance writing on the side; I also work part-time for UPS.
Describe your path since RBC.
After graduating from RBC, I earned a degree in journalism from The Ohio State University. I have done a variety of writing work: freelance magazine writing, working for a small weekly newspaper in Columbus (where a highlight was writing a restaurant review column), and serving as staff writer for Rosedale Mennonite Missions.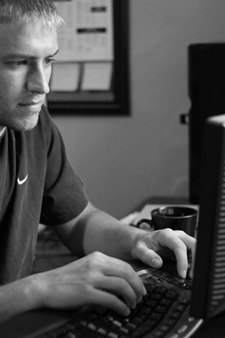 How did RBC fit into that path?
RBC was an important starting point for my education. When I moved on to Ohio State, what I learned at Rosedale helped me engage new ideas with an informed understanding of my faith.
At the same time, I gained confidence in my writing while I was at RBC, and that was a big reason I decided to go into journalism.
What was it like when you transferred to another college?
Ohio State accepted all my classes as counting toward electives and credit hours, which meant I had fewer electives to take and easily fulfilled the general credit hours requirements for graduation. I also got higher priority for registering for classes. This helped me get better classes and graduate sooner.
What was your favorite class at RBC? What made it special?
It's hard to know which was my favorite (or to remember...), but I enjoyed attempting to learn Greek in six weeks, although my efforts fell slightly short. That class introduced me to the challenge and reward of language learning, which I have enjoyed since. I minored in Spanish at Ohio State and I hope to add other languages someday before my brain atrophies. I also enjoyed my composition class with Lynette Schrader. That class gave me a lot of confidence in my writing and was a great foundation for the writing I've done since.
What did you find at RBC that helped you grow spiritually?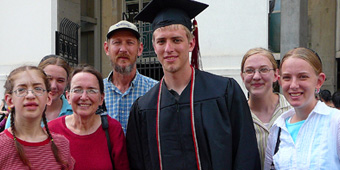 RBC exposed me to the wide variety of ideas in the Christian faith, through thoughtful classes and chapel sessions and friendships with people of differing perspectives. Grappling with those concepts and different perspectives helped me come to a more informed faith of my own.
Give a favorite memory of your time at RBC.
One great memory is the good conversation around the breakfast table that went on long after the meal ended. Some things we talked about were important and profound, some were less so. Those were good times.
What extra-curricular activities were you involved in while at RBC?
I was part of the group that created that venerable publication, The RBC Camel. Our journalism standards could have been higher, but we had a great time and left an enduring legacy, at least in the sense that you can still find PDF issues of The Camel in a dusty corner of the RBC website. I have rarely worked with such a creative group of people.
Search About RBC
Can't find what you are looking for? Type your question here.
Contact Us
Rosedale Bible College
2270 Rosedale Road, Irwin, Ohio 43029
740-857-1311 | 877-857-1312 fax